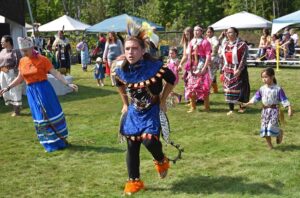 At the Nipissing First Nation's 35th Traditional Powwow in Garden Village, Talon Beaucage dances in the chicken style.
Healing through the drums at the Nipissing First Nation's 35th Traditional Pow Wow
By Kelly Anne Smith
NIPISSING FIRST NATION — Nipissing First Nation's 35th Traditional Pow Wow took place September 3-4 in Garden Village attracting a bigger crowd with more vendors.
MC Bob Goulais entertained while informing the dancers of upcoming songs and pow wow protocol for the growing crowd as the Ottawa River Singers and Eagle Flight sang to the beat of the big drums. Sunrise ceremonies started the day Thursday to Sunday.
Jingle dancer Ava Couchie looks forward to the two-day Nbisiing Nation Dewegigewaad.
"It's a really nice community and I am grateful to call this home."
2023-2024 Miss Nipissing First Nation Sassa Linklater was also feeling grateful at the sunny, popular pow wow.
"I feel very welcomed, and cared for by the pow wow committee and the community of Nipissing."
Head dancer Samantha Mianskum talked about community in the Nipissing First Nation powwow.
"It's all about unity. It's all about truth and reconciliation and us healing as a whole nation from all the trauma."
Then Samantha spoke of a big event in her life early this summer, meeting her sister Cynthia. Samantha's son Tayton Mianscum acts in the mini-series, Little Bird, a Crave drama about the Sixties Scoop that released in Canada late May.
"I met my sister in June, a Sixties Scoop survivor. I didn't know. We didn't know about her, nothing. We met her in June when that Little Bird started to air. She came here today. She is in the ribbon skirt right here. She would be the eldest of all of us. She's here with us today, visiting and getting to know our family and our culture."
Cultural and Heritage Manager Mindy Lariviere called the Nipissing Traditional Pow Wow extra busy compared to last year.
"We have double the vendors this year than we did last year — it's a great turnout. Last year, we had about 1,500 come through; we are anticipating between 2,000 and 2,500 people come through."
Mindy explained the Nbisiing Nation Dewegigewaad theme is Trying to live a balanced life.
"We are trying to help our community to see that we don't need to be perfect, but we need to live good. A lot of our families in the community are seeing a lot of trauma in alcoholism and drug abuse and even excessive food eating. Our theme is really wrapped around just people trying to live a healthy life, a balanced life; not perfect, but a good life."
Tory Fisher was asked by the pow wow committee to be arena director.
"My spirit name is Waswaabik and I am from the Oojiik (fisher) Clan. Our pow wows are a time of celebration coming together in song and dance. Also, it is a time of healing for our people through the drums, songs, the dance and being together as a pow wow community. It is showing our community a place to be safe and welcomed into the circle and visit with family. A place to ask for help and healing through the drums or Jingle Dress dancers. They will sing for us and dance for us. It is part of our beautiful Anishinaabe way of life to look after each other through our shared gifts."
SOURCE: https://anishinabeknews.ca/2023/09/12/healing-through-the-drums-at-the-nipissing-first-nations-35th-traditional-pow-wow/