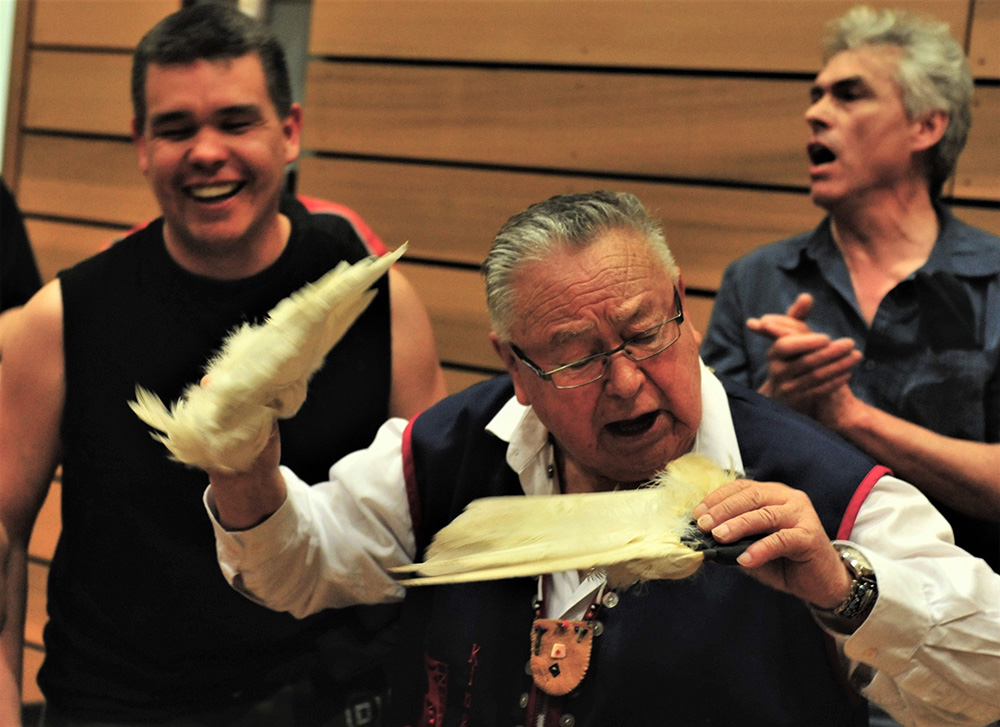 [Editor's note: This is the second of two parts. Find the first
here
.]
Chief Adam Dick was the boy who lived. He was the child in the bullrushes. Whether you prefer J.K. Rowling or the Bible, there are many legends across many cultures that tell of children hidden from malign forces intent on destroying a people and a way of life — heroes who must survive before re-emerging to continue the battle. On the west coast of B.C., Chief Adam Dick was destined to be that kind of warrior.
His chieftain name is Kwaxsistalla Wathl'thla. Kwaxsistalla means "The smoke from his big fire reaches around the world;" Wathl'thla means "the late." Chief Dick died of heart failure last year at age 89. He was a chieftain of the Kawadillikall Clan of the Dzawatainuk Tribe of the Kwakwaka'wakw First Nation, and took with him an unmatched knowledge of Kwakwaka'wakw music, culture and practice.
But before he died he succeeded in passing much of his knowledge along, and in the process helped transform our common understanding of life on the coast before Europeans arrived, and before the residential school system devastated Indigenous families.
"We would have lost the knowledge," says Kim Recalma-Clutesi, also known as Ogwiloqwa of the Qualicum First Nation. "For six generations children in that area were removed to go to residential school. The only way to transmit that knowledge is to actually live there with the old people. He was the last contact with those really old teachings."
If you picture the residential school system as a giant meteor, an obliterating force that wreaked havoc in First Nations communities across Canada, you might assume all was lost. But the impact did leave survivors.
Adam Dick was one.
It is no accident that young Adam, a descendant of clan chiefs, was spared. His deliverance was the collective act of his community.
GREAT READ:
They Hid Him from Residential School, He Grew to Be Chief | The Tyee
Read the first in this two-part series here.