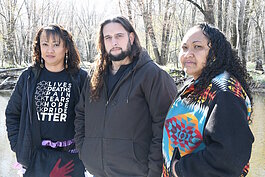 To survive, previous generations often denied the emotional hurt they suffered and refused to acknowledge the pain caused by the extreme oppression of Native Americans.
Editor's note: This story is part of Southwest Michigan Second Wave's On the Ground Calhoun County series.

Fred Jacko has chosen not to incorporate his Native American upbringing and culture into the lives of his own children.

"My children will have the choice when they're adults," he says.

His decision is in stark contrast to his job as the Culture and Historic Preservation Office Manager for the Nottawaseppi Huron Band of the Potawatomi, which has its offices on the Pine Creek Indian Reservation in Athens. But, he says, it's necessary to stop the cycle of historical trauma that continues to have lasting impacts on his generation and generations before him.

A multitude of atrocities done to Native Americans that began in the early 1800s at the hands of government officials who enacted legislation that took away their land, their rights to live their lives as a free people, their culture, heritage, and in too many instances their family structure has caused lasting trauma.

GOOD READ: How Native Americans find healthy ways to deal with trauma passed down through the generations