reblog from Musings of the Lamb blog:
By 2012, Adoption Will be a 5 BILLION Dollar Plus industry
Even the banking and insurance industry has more regulations applied to then than adoption and we know what they do to try and make money at all costs.
An industry analysis of
Fertility Clinics and Adoption Services by Market Data Enterprises of Tampa, FL
, has placed a $1.4 billion value on adoption services in the US back in' 99. No other government or private agency has bothered since then. With a projected annual growth rate of 11.5% to 2012, this makes adoption the largest unregulated industry in the US.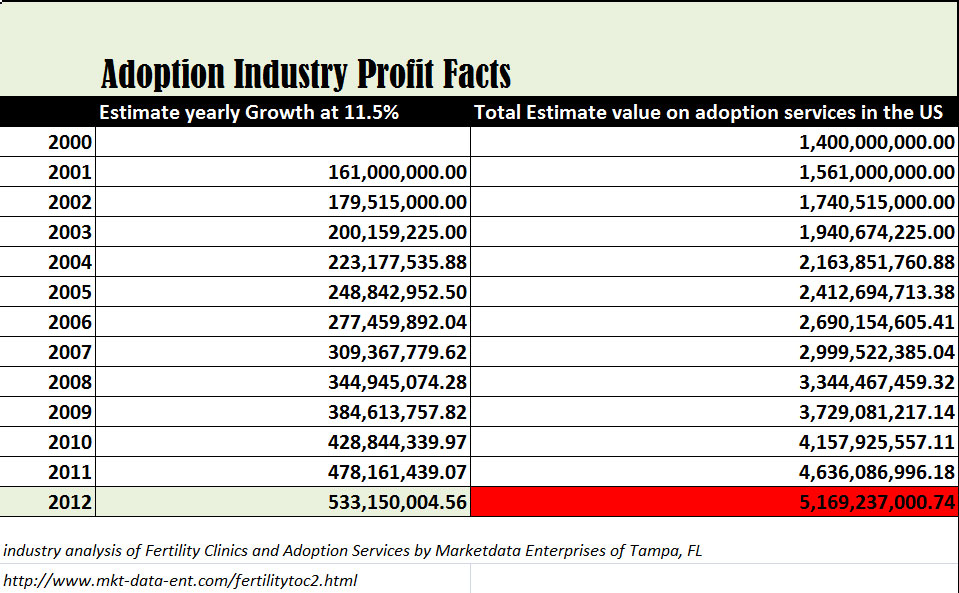 Let's all repeat: NO REGULATIONS PLUS LARGE SUMS OF MONEY EQUALS CLIMATE FOR CORRUPTION. That, folks, is human nature.
http://www.adoptionbirthmothers.com/its-not-about-you-but-it-is-2/#more-3268