ADOPTION REALITY: It seems more and more countries are experiencing difficulties with child trafficking that I ever expected but of course this is not reported in American television. Adoption (international now) by Americans is still ongoing since America's supply of its babies dried up apparently!
Orphaned or Stolen? The U.S. State Department investigates adoption from Nepal, 2006-2008
Children abducted from their families for international adoption, so that middlemen could profit from Westerners' cash. Families that left their babies temporarily with a child welfare center during times of illness or financial distress--only to discover on returning that, to their horror, their children had been sent away forever to Spain, Italy, or the U.S.A. "demand and supply" effect: when international adoptions were suspended, reported "abandonments" drop. Fees that suddenly increase without rhyme or reason--unless orphanages needed more cash for bribes or just out of greed.
That's what the U.S. Embassy in Kathmandu was seeing between 2006 and 2008 when it checked into how children had become available for U.S. citizens to adopt, as documented in official internal cables received by the Schuster Institute for Investigative Journalism in response to Freedom of Information Act requests.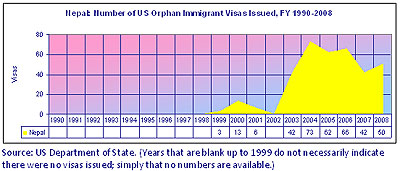 During 2006, the first year of the U.S. investigation, 394 children were adopted internationally from Nepal; 66 of them by Americans. In March 2007, because of allegations of rampant corruption in orphanages and adoption agencies, the Nepali government halted international adoptions. Even after Nepal allowed international adoptions to resume in early 2009, the U.S. government found that fraud and corruption persisted, causing such concern that the U.S. State Department suspended all adoptions from Nepal in August of 2010.
During the period between 2006 and 2009,
950 children from Nepal had been adopted internationally,
168 from the U.S.
Read more here: http://www.huffingtonpost.com/schuster-institute-for-investigative-journalism/orphaned-or-stolen-the-us_b_825451.html