(click headlines) important...Indian Law News Coverage (8/23/2021)
In This Episode
ALM – as referred to in court documents – is a Navajo and Cherokee toddler. When he was a baby, a white couple from the suburbs of Dallas wanted to adopt him, but a federal law said they couldn't. So they sued. Today, the lawsuit doesn't just impact the future of one child, or even the future of one law. It threatens the entire legal structure defending Native American rights. In season 2 of This Land, host Rebecca Nagle investigates how the far right is using Native children to quietly dismantle American Indian tribes. PREMIER August 23rd.
read more👇

A 1978 law tried to remedy adoption practices created to forcibly assimilate Native children. Now conservative lawyers are arguing that the law constitutes 'reverse racism'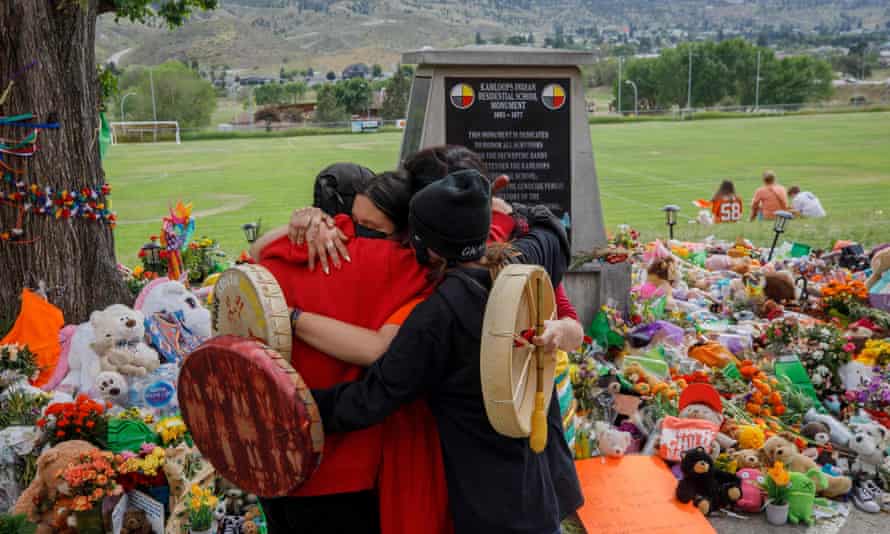 Members of the Mosakahiken Cree Nation hug in front of a makeshift memorial at the former Kamloops Indian Residential School to honor the 215 children whose remains have been discovered buried near the facility, in British Columbia.

Photograph: Cole Burston/AFP/Getty Images
There's a reason why "
forcibly transferring children
" from one group to another is an international legal definition of genocide. Taking children has been one strategy for terrorizing Native families for centuries, from the mass removal of Native children from their communities into boarding schools to their widespread adoption and fostering out to mostly white families. It's what led to the passage of the Indian Child Welfare Act (ICWA) of 1978, touchstone legislation that aimed to reverse more than a century of state-sponsored family separation.
MORE NEWS
It's about time Indigenous peoples in Canada get "mutual respect" and "meaningful actions" from their government, says a former Manitoba grand chief.

In an interview with Global News on Friday, Sheila North, former Manitoba Keewatinowi Okimakanak grand chief, said party leaders must present solid policies during this federal election to get that respect.

"That is a big issue that needs to be addressed by all parties, and follow it up with meaningful actions that will resonate right into the heart of Indigenous people, especially on remote communities; if we see a difference in remote communities, then we'll know we're actually making progress in achieving reconciliation in this country," she said. Visit
from NICK's Blog
This is really the bare minimum of information, so I really encourage you to do your own research and learn more about the atrocities that the American and Canadian governments committed against the indigenous peoples of this land.
The 'Indian Residential School System' in Canada was founded as an attempt to continue assimilating indigenous peoples into the western culture – this included but was not exclusive to religious indoctrination into Christianity, learning English, and domestic and agricultural work exclusive to Anglo-Saxon traditions.
The system came into use after the passing of the 'Indian Act' in 1876 and the last federally-funded school shut down in 1997.

Many Indigenous groups were excluded as part of the Indian Act such as the Metis, the Inuit, and "non-status Indians" (e.g indigenous children with parents from different tribes or other indigenous individuals from tribes not recognized by the federal government at the time). Therefore many Indigenous populations were without rights or the Indian Act, as the Indian Act was meant to replace Canada's "Charter of Rights and Freedoms" for Indigenous groups acknowledged by the federal government.

The schools were extremely harmful to indigenous children – removing them from their homes and families often without consent, depriving them of their ancestral languages, and exposing them to numerous forms of abuse including (but certainly not limited to) experimentation, malnutrition, neglect, arduous labor, and sexual abuse.
Survivors of residential schools often showed signs of the trauma they endured in post-traumatic stress disorder, alcoholism, substance abuse, and suicide.
In 2021 alone, thousands of unmarked graves have been found at the locations of former residential schools.
Residential schools were not limited to just Canada!
Thousands of Native American "boarding schools" existed in the United States between the 1700s and the 1900s with similar conditions.

U.S. Army Officer Richard Henry Platt, who founded one of the Residential Schools in Pennsylvania was famous for stating "kill the Indian in him, and save the man" with the similar ideology of assimilating indigenous children under the belief that it was better for indigenous populations.

Sources: