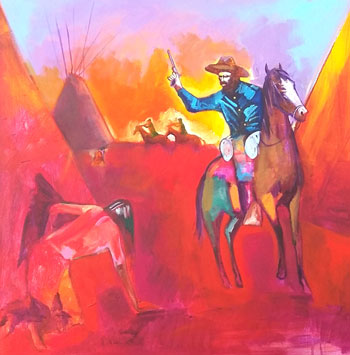 (excerpts)
The continent's First Nations people were highly civilized, unscathed by class rule, and harmoniously connected to the natural environment in ways that hold critical significance for human and other living things in our current age of capitalist ecocide...
Predator's massacre chain ran from Connecticut Captain John Mason's burning and shooting of hundreds of Pequot villagers near
Mystic River in May of 1637
through terrible events like the
so-called Battle (massacre) of Bad Axe (1832
) and the Sand Creek Massacre (1864) to the Wounded Knee bloodbath (the so-called Battle of Wounded Knee) in December of 1891, when the U.S. Calvary killed 150-300 Lakota men, women, and children on the Pine Ridge Reservation in South Dakota. The United States' beloved first president, George Washington, was
known to the Iroquois as "Town Destroyer
."
Endnote
1) The 1832 "Black Hawk War" was a one-sided affair, typical of the many pitiless mass exterminations committed by supposedly noble "settlers" seeking to "tame the continent." As penalty for the warrior Black Hawk and his followers' determination to reclaim rich tribal lands brazenly occupied by whites in northern Illinois, the Sauk and Fox Indians lost 600 people, including hundreds of woman and children. Just 70 soldiers and "settlers" lost their lives. The conflict culminated in the so-called
Battle of Bad Axe
, on the eastern shore of the Mississippi River, near the present-day community of Victory in southwest Wisconsin.
Better described as a massacre than a "battle," this American military triumph involved U.S. General Henry Atkinson killing every Indian who tried to run for cover or to flee across the Mississippi River. On August 1, 1832, Black Hawk's band reached the Mississippi at its confluence with the Bad Axe River. What followed was an atrocity, committed despite the Indians' repeated attempts at surrender. "While the Sauk refugees were preparing rafts and canoes, the armed [U.S.] steamboat
Warrior
arrived," historian Kerry Trask recounts, "whereupon Black Hawk tried to negotiate with its troops under a flag of truce. The Americans opened fire, killing twenty-three warriors."
"As we neared them," one US officer who "served" in the U.S. assault recalled, "they raised a white flag and endeavored to decoy us, but we were a little too old for them."
Hundreds of Sauk and Fox men, women and children were shot, clubbed, and bayoneted to death on August 2nd. "US soldiers scalped most of the dead. They cut long strips of flesh from dead and wounded Indians for use as razor strops." The slaughter was supported by cannon and rifle fire from the aptly named Warrior, which picked off tribal members swimming for their lives.
By Major Wakefield's account, the US troops at Bad Axe "shrank not from their duty. They all joined in the work of death for death it was. We were by this time fast getting rid of those demons in human shape… the Ruler of the Universe,
He who takes vengeance on the guilty, did not design those guilty wretches to escape His vengeance…"
The top "demon in human shape" – the old Sauk warrior Black Hawk – lived six years beyond the "war" that bore his name. He was sent to a US reservation in Iowa after US President Andrew Jackson – a Trump favorite and himself a prolific Indian-killer – had Black Hawk paraded as celebrity war booty – as an exotic "savage" and proof of the United States' military's alleged great prowess in defeating such barbarian brutes – before gawking crowds in eastern US cities.
At Chicago's United Center at least 41 times each National Hockey League season, more than 10,000 U.S. whites wear jerseys emblazoned with a caricature-like profile image of "chief" Black Hawk, whose people were obliterated and dispersed so that northern Illinois's fertile fields and pastures could be turned into the private property of white farmers, merchants, and industrialists. Oh, but for the return of the days when America was great!