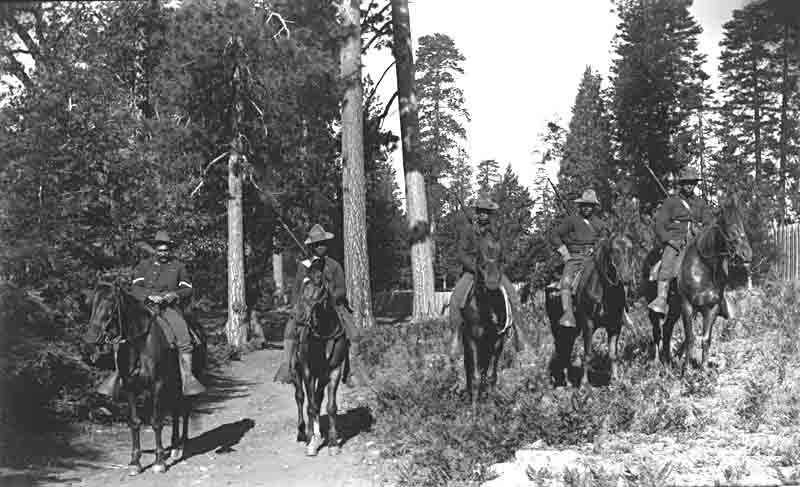 Buffalo Soldiers at Yosemite National Park, NPS
The story of genocide at Yosemite National Park
When the conservation community talks about the first major federal actions to preserve land in the United States, we often cite the Yosemite Grant: Abraham Lincoln's 1864 decision to cede Yosemite Valley and Mariposa Grove to the state of California for use as a public park. Lincoln's decision set the precedent of the U.S. government setting aside land for the purpose of preservation that led to the establishment of the first national park, Yellowstone.
What is often overlooked when celebrating this event is the violent, forced dispossession in Yosemite Valley carried out by a California state militia force known as the Mariposa Battalion fewer than two decades earlier. In 1851, the unit attacked the villages of the Indigenous Ahwahneechee people living in the valley, burning their homes and food supplies to force them off the land. After the attack, the U.S. allowed a few surviving Ahwahneechee to stay on the land, but only if they agreed to serve as a "cultural attraction" and weave baskets for visiting tourists.
Yosemite National Park's name is actually derived from an Ahwahneechee word shouted by villagers as militia forces attacked and drove them off the land.

Ironically, the word that eventually became the name of the national park is derived from an Ahwahneechee word shouted by the villagers during the Battalion's attack. Battalion soldiers thought the word "Yosemeatea"" was a place name, but it was actually the Ahwahneechee word for "killers."
Thus, Yosemite National Park is actually named for the act of genocide committed by European-Americans a few years before the valley was federally designated as a state park.
While shocking, this example is not unique to Yosemite. It is emblematic of the fact that the history of parks, forests and other public lands in the U.S. is interwoven with episodes of great cruelty, often inflicted on the original and traditional inhabitants of what we call North America. It reminds us that the legacy of the conservation movement is complex and often dishonorable.
source