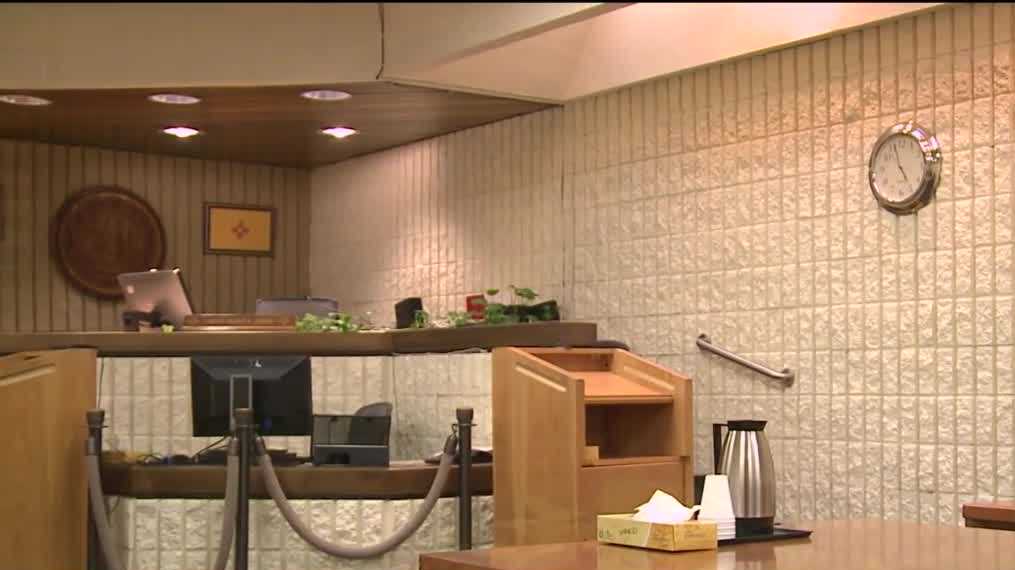 The court's goal is to work directly with tribal members, families, and state agencies on finding the best solution for the child, all while preserving cultural ties. It's only the 6th one in the country.
BERNALILLO COUNTY, NEW MEXICO—
In the pueblo of Pojoaque, there's a saying they take to heart.
"No one gets left behind, and we don't shoot our wounded," said Joseph Talachy, the governor of the Pojoaque.
When a tribal member is down, the pueblo as a whole works to bring them back up.
"We're all wounded to some extent here in the pueblo, and in northern New Mexico in general we come from very historically traumatic background," Talachy said.
For Talachy, the trauma is all too familiar.




"It wasn't until fairly recently, when I figured out that this was all a traumatic experience," Talachy said. "I thought everyone got adopted. I thought everyone got put in a different home."




Talachy was born in an Illinois prison. His biological mother is a Pojoaque tribal member who wasn't able to financially care for her kids, so she put them up for adoption.




"But given the implementation of the Indian Child Welfare Act in 1978, it opened up the doors for me to come back to my pueblo," Talachy said.
The Indian Child Welfare Act, also known as ICWA, is a federal law that prevents state agencies from removing Native American children from their parents and placing them in outside communities. The goal is to keep the children as close to their cultures, traditions and tribes as possible.
"Actually under the obligations of the feds, they had to contact the tribe, in order to ask 'Hey tribe do you want your child back?'" Talachy said.
The Pojoaque governor at the time was able to find a tribal family to take Talachy in at the age of 4. Becasue of that he was able to be raised back in the pueblo, learning his culture, language and traditions. But that's not always the case for American Indian kids.
"I can't imagine what it's like for that 4-year-old child to be placed in another home and continue to be confused," Talachy said.
According to statistics from the New Mexico Children, Youth and Families Department, about 10 percent of kids in the foster care system are Native American. Native American children are also removed from their homes and communities at a much higher rate than non-Native American kids.
"There has been this historically trauma in this whole country," said Melody Wells with CYFD. "Having a distrust, and really not wanting to work with them."
Even though ICWA was enacted in 1978, many realized there was still a disconnect with state agencies and tribes.
"Sometimes it's as simple as walking into a courtroom and not seeing people who look like you," said Special Master Catherine Begaye. "Sometimes there's been some animosity between the tribes and CYFD, not knowing what one another is doing. For lots of families the way we've been doing things, doesn't always work for them."
Judges with the children's court ran an audit and found out that there were at least 100 children whose cases would likely end up in a courtroom, which is why Bernalillo County launched the ICWA court in January.
"That spoke to the need that we have to do much better," said Judge Marie Ward with the Second Judicial Court. "If we can do this better then, ultimately it's the kids and the families that get to stay together and have better lives."
The court's goal is to work directly with tribal members, families, and state agencies on finding the best solution for the child, all while preserving cultural ties.
"This new administration really looked at it and said why is this happening? That's really not how we want to be," Wells said. "I think as we see the ICWA unit working with more and more departments and individuals we will see a shift in how CYFD does things over, across the board."
Advocates of the program said structural racism, historical trauma, and institutional bias has had an impact with how New Mexico's courts treat Native American families, which is why many believe this court is long overdue.
"Native people should see a system that is changing to meet their needs, instead of them having to fit our cookie-cutter version of who their family should be," Begaye said. "Native people can thrive with the right support, and if that means a child who is 4 years old is in front of me, I want to be part of the group of people who want to set them on the course so that they can lead their people to a better future."
CYFD created an ICWA unit, that is composed of predominately native lawyers, case workers, and supervisors. The new court here in Bernalillo becomes only the sixth ICWA court in the country, joining cities like Billings, Denver, and Los Angeles. Since the court's launch, judges have heard two cases so far.
"We want to establish trust between us and the families, that we're really here for reunification," Begaye said.
For Talachy, his life was changed by the the ICWA system.
"Without the courts, I wouldn't have the opportunities that I've been given today. Who knows where I'd be?" Talachy said.
He knows who he is, he knows his roots, and he hopes every Native kid who ends up in the system will know theirs', too.
"Our children are our No. 1 asset, who we are ultimately gets passed down through our children; without their well-being, our culture dies, our language dies," Talachy said.
Currently the court is only hearing cases in Bernalillo County, but the judges hope to expand it statewide in the coming years.
THE NEW COURT IN BERNALILLO BECOMES THE 6TH ICWA COURT IN THE COUNTRY JOINING CITIES LIKE DENVER AND LOS ANGELES. SINCE JANUARY, THE COURT HAS HEARD TWO CASES. C.Y.F.D CREATED THIS UNIT, THAT IS COMPOSED OF PREDOMINATELY NATIVE LAWYERS, CASE WORKERS, AND SUPERVISORS. CURRENTLY THE COURT IS ONLY HEARING CASES IN BERNALILLO COUNTY, BUT THE JUDGES HOPES TO EXPAND IT STATEWIDE.
Source:
Meeting the needs of Native kids through new court