Search Quest America announces the relaunch of ReunionRegistry.org, a Free Resource for Adoptees and Birth Family Members Separated by Adoption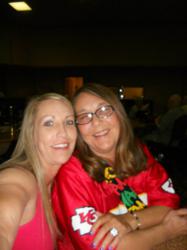 Pamela Combs-Wickel
and Vicki Caton Buckle Reunited
Cape Coral, Florida (PRWEB) May 17, 2012
Search Quest America
is a licensed investigative agency based in Cape Coral, Florida which specializes in one of the fasted growing forms of skip tracing – family search. Since the company was founded in 2008, over 2,000 families have been reunited!
CEO Susan Friel-Williams states, "We recognize our clients' need to reconnect with missing family and are here to help! Children can be separated from family members through adoption, growing up in the foster care system, or because their parents divorced and they lost touch with a mother or father. Our research professionals understand that search and reunion is a journey of self discovery for our clients. Every one of our research professionals has personal ties to adoption issues."
ReunionRegistry.org,
a free resource for adoptees, birth parents and siblings separated by adoption
, has been relaunched. We'd like to thank our Internet design team at Search Quest America for re-designing and releasing our newest version.
We also have a great reunion success to share with you from Pamela Combs Wickel in Washington, who wrote and shared her story: "On January 6, 2012 I found my answers. An investigator left me a message asking for my help in a case she was working on. I can still remember calling Susan at Search Quest America back. I thought my heart was going to pound out of my chest. Could it be me someone is looking for? Well it was and I am so thankful to be found!"
"That evening I spoke to my birth mom, Vicki Caton Buckles for the first time. It was as special as I thought it would be. And my biggest question of all was answered. Yes, she loves me! On April 22, 2012 we met for the first time. It was absolutely one of the highlights of my life. She is as loving, caring, happy, kind, awesome and beautiful inside and out as I had imagined her in my mind to be. I feel whole and complete and I am so grateful to Susan at Search Quest America for that most incredible, life changing day. Thank you for finding me Susan - and Vicki, Thank you for looking. This is the beginning of an amazing future."
Register or visit today and see who might be searching for you.
Contact: Susan E. Friel-Williams
CEO, Search Quest America LLC
Phone: (888) 949-6996
Fax: (866) 686-7687
http://www.searchquestamerica.com