a blog for and by American Indian and First Nations adoptees who are called a STOLEN GENERATION #WhoTellsTheStoryMatters
How to Use this Blog
Howdy! We've amassed tons of information and important history on this blog since 2010. If you have a keyword, use the search box below. Also check out the reference section above. If you have a question or need help searching, use the contact form at the bottom of the blog.

PLEASE follow this website by clicking the button above or subscribe.

We want you to use BOOKSHOP! (the editor will earn a small amount of money or commission. (we thank you) (that is our disclaimer statement)
This is a blog. It is not a peer-reviewed journal, not a sponsored publication... The ideas, news and thoughts posted are sourced… or written by the editor or contributors.
Can you help us? Here is how:
WRITE AND POST A BOOK REVIEW ONLINE:
Please know that if you write an honest book review, we are very very appreciative. Kobo, Good Reads, Apple Books, etc. - every opinion counts.

DONATE COPIES:
If you can, please donate a copy of our book titles to your local library, college or school.
Blogger forced a change to our design so please SCROLL past the posts for lots more information.

Support Info: If you are a Survivor and need emotional support, a national crisis line is available 24 hours a day, seven days a week: Residential School Survivor Support Line: 1-866-925-4419. Additional Health Support Information: Emotional, cultural, and professional support services are also available to Survivors and their families through the Indian Residential Schools Resolution Health Support Program. Services can be accessed on an individual, family, or group basis." These & regional support phone numbers are found at https://nctr.ca/contact/survivors/ .
Canada's Residential Schools
The religious organizations that operated the schools — the Anglican Church of Canada, Presbyterian Church in Canada, United Church of Canada, Jesuits of English Canada and some Catholic groups —
in 2015 expressed regret
for the "well-documented" abuses. The Catholic Church has never offered an official apology, something that Trudeau and others have repeatedly called for.
Crime Scene
The Justice Department is protecting the names of many perpetrators of abuse of Indigenous children.
We need a special independent prosecutor who can force the government and church to turn over the documents.
There can be no reconciliation without justice.@MumilaaqQaqqaq pic.twitter.com/5TL6OxKM5O

— Charlie Angus NDP (@CharlieAngusNDP) July 8, 2021
This is a map of every residential "school" site in Canada.

Every dot is a crime scene.

Only a few have been investigated so far.

Canada, do not get used to these numbers.

Do not let them become statistics.

Put yourselves in the shoes of these children in the ground. pic.twitter.com/5XJS1w1ka2

— Mumilaaq Qaqqaq (@MumilaaqQaqqaq) June 24, 2021
so far...
Most READ Posts
Editor NOTE: This is one of our most popular posts so we are reblogging it. If you do know where Michael Schwartz is, please leave a com...

  Lost Sparrow movie/all are adoptees For about 100 years, the U.S. government supported a system of boarding schools where more than 100,00...

Kevin Ost-Vollmers and Shelise Gieseke at Land of Gazillion Adoptees Blog said Feb. 26th begins BLOG WEEK to answer this question:   "Why ...

Skeptics of Veronica, Desaray cases call for closer look at private adoptions, laws Andrew Knapp ...

Eric Schweig Born:  Ray Dean Thrasher  on 19 June 1967   Inuvik , Northwest Territories , Canada Occupation Actor/Artisan/...

  Baby V (Cherokee) Fletcher and Fort's Rewritten Opinion in Adoptive Couple v. Baby Girl January 8, 2021 Matthew L.M. Fle...

  From Indigenous feminism to the real story of Thanksgiving to a de-colonialist take on Star Trek, these podcasts show how the issues facin...

REBLOG By Trace L Hentz (5/14/2015) So much about adoption is complicated for the adoptee.  If you are like me, you ma...
What our Nations are up against!
To Veronica Brown
Veronica, we adult adoptees are thinking of you today and every day. We will be here when you need us. Your journey in the adopted life has begun, nothing can revoke that now, the damage cannot be undone. Be courageous, you have what no adoptee before you has had; a strong group of adult adoptees who know your story, who are behind you and will always be so.
Did you know?
New York's 4o-year battle for OBC access ended when on January 15 2020, OBCs were opened to all New York adoptees upon request without restriction. In only three days, over 3,600 adoptees filed for their record of birth. The bill that unsealed records was passed 196-12.
where were you adopted?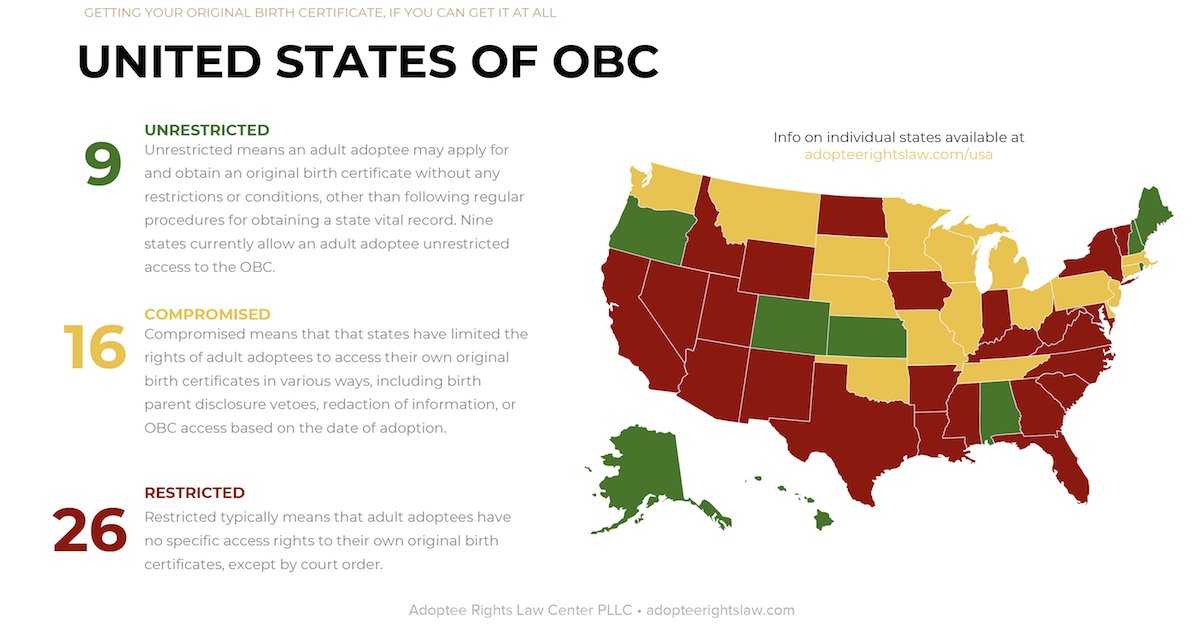 ADOPTION TRUTH
As the single largest unregulated industry in the United States, adoption is viewed as a benevolent action that results in the formation of "forever families."
The truth is that it is a very lucrative business with a known sales pitch. With profits last estimated at over $1.44 billion dollars a year, mothers who consider adoption for their babies need to be very aware that all of this promotion clouds the facts and only though independent research can they get an accurate account of what life might be like for both them and their child after signing the adoption paperwork.

Original Birth Certificate Map in the USA