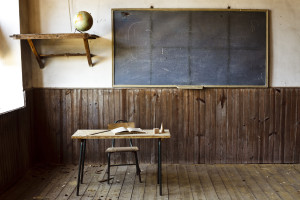 Source: iStock
As we come fully into fall and social media timelines fill with photos of kids shining with scholastic achievement (mine being one of them – star speller, woohoo!), I've been reflecting on one photo in particular.
The Humane Way to Assimilate
Fear and Punishment as Educational Tools
The Impact on Native Student Outcomes Today
There are many in my generation and younger who were never taught our

tribal languages

. Why would our elders teach us something that could get us beaten or worse, as they were?

Boarding schools taught many parents and grandparents raising children today to be distrustful of the education system.

Violence in Native communities remains cyclical in nature. The abuse experienced by thousands of Native youth at boarding schools was rarely, if ever, treated or addressed. Left unchecked, the

violence

has cropped up in families generation after generation.
Due to the lack of mental health resources on reservations, many abuse survivors turned to alcohol or drugs to self-medicate. Crimes committed to feed addictions led to incarceration. The

Native incarceration rate

is nearly 40% higher than the national average.
Our children don't learn positive ways to cope.

Native youth suicide

is at more than three times the national average (reservation communities experience ten times the national rate).
Healing from Indian Boarding School Trauma