'STILL HEALING'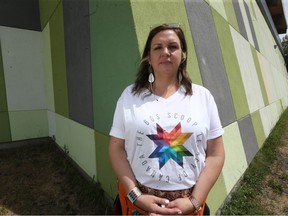 Survivors of the Sixties Scoop gathered in Winnipeg on Saturday for the Manitoba Sixties Scoop Conference and share their stories and experiences of being taken from their families.
"Since the apology of 2015, there really hasn't been a bigger gathering of Sixties Scoop Survivors to talk about some of the issues that we're still working our way through," said 60s Scoop Legacy of Canada Director and spokesperson Katherine Strongwind. "We've had about 23 smaller healing gatherings, mostly in Winnipeg and some across western Canada and we thought it was really important to pull everybody together today to say, 'You know, we are still here, we're still healing ourselves.' The province really needs to step up their game in terms of really how they're going to be helping us."
The "Sixties Scoop" refers to the large-scale forced removal or "scooping" of Indigenous children from their homes, communities and families of birth through the 1950s, 60s, 70s and 80s, and the subsequent adoption into predominantly Caucasian, Christian, middle-class families across Canada, the United States and overseas.
Many adoptees and Survivors were left with a lack of or poor sense of cultural identity. The forced physical and emotional separation from their birth families by the government's assimilationist policies continues to affect adult adoptees and Indigenous communities to this day. Many Survivors had parents, grandparents, and extended families who were forced to attend Indian Residential Schools.
"The purpose this afternoon is to pull people together and get some feedback from them on some of the very specific issues that adoptees and folks who have been through child welfare have such as name changes, child welfare records, adoption records, all of those sorts of pieces," said Strongwind.
Organizers plan to draft a report for the provincial government but also for Indigenous leaders.
"I'm not sure (Indigenous leaders) really know what to do with us," said Strongwind. "We're coming home and we're trying to reconnect our families and our communities but they don't always have the best understanding of how to support us."
Some 120 Scoop Survivors attended the one-day gathering. Half of the cost of the gathering was covered by the provincial government with the remainder covered by fundraising. City of Winnipeg donated the space at Sergeant Tommy Prince Place in the North End for the gathering through the Indigenous Liaison Unit.
"We invited a couple of speakers to share part of their story this morning and there's definitely some similarities among all of us but also we wanted to talk about inspiring stories and 'What's worked best for you on your healing journey and how can we support each other?' because so far we don't have any kind of healing program specifically for Sixties Scoop Survivors," said Strongwind. "So we're supporting each other."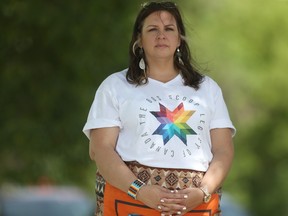 In 2015, then-Manitoba Premier Greg Selinger apologized on behalf of the province. Six years later, the 60s Scoop Legacy of Canada and Manitoba Senator Murray Sinclair called for a federal inquiry.
"We still don't know how many kids were taken, where they were taken to, where they are now, how many died in care and those kind of pieces," said Strongwind on what an inquiry would uncover. "We also know that people want to share their stories and their testimonies before they pass away. Over the next year or so, we'll focus on that but also gatherings like this are really important to get people together and learn from each other on how we can support each other on some of these pieces when we're not be recognized, we're not being acknowledged.
"We're really out here on our own it seems like."
The provincial government needs to provide funding for these sorts of gatherings but also provide a unit or some sort of fund available for Survivors to be able to access some of the services that they offer such as the post-adoption registry and child welfare records, Strongwind said. Even something as seemingly simple as making it easier for Survivors to legally change back to their traditional names.
"The province did the dirty work of the Sixties Scoop," said Strongwind, who legally changed her name in November. "They were given jurisdiction in 1951 from the federal government and they really took that and ran and decided they were going to scoop up entire families off reserves and they thought they were going to make us into upstanding Christian citizens. In some respects, they were successful but we know that many of us ending up leaving that lifestyle and our families and ended up coming home to our biological families and communities. Culture plays a huge role in our healing.
"There's all of these sorts of pieces that the province could be helping with but really aren't."
City could participate by providing spaces for gatherings and a memorial of some sort.
"All levels of government I feel have a part to play in this," Strongwind said.
With some 10,000 Indigenous children in care in Manitoba, Strongwind believes Sixties Scoop Survivors can have role in preventing a recurrence of what happened to them.
"We want to use our experience as best practices to prevent that from happening in the future,"Strongwind said. "That's part of the purpose that the 60s Legacy of Canada works towards every day."
[gdawkins@postmedia.com]